Switch Characters
Switch Accounts
---
Staff Team
Casey Founder:
Topher Head Admin


Full Name:
Raven
Alias:
Rae/Ray
Rae-Rae (by Mother Mae-Eye)
The Gem
Sunshine (by Val-Yor)
Henchy (as a self-thought up villain alias in Revved Up by Starfire)
Daddy's little girl (by Trigon)
Dear daughter (by Trigon)
Little girl
Mistress of Magic (by Control Freak)
The Portal
Birthday Girl (by Slade)
Sexual Orientation:
Unknown seems to prefer males
Age:
18-21 appearance age
Play-By: (Celeb)
permission from oliver queen to use other form of media
Physical Description:see various images included
Occupation:
Ex-Teen Titan, Hero, Mysterious Lost Traveler
Affiliation:
Teen Titans, Neutral
Family Information:Family Background:
its in her bio
History:
Arella
, Raven's mother, was chosen to become the bride of the demonic
Trigon
. Abandoned by the demon rather than her becoming his queen, Arella was bent on suicide when she was taken in by the pacifistic disciples of Temple Azarath, a group who had centuries earlier forsaken life on Earth to pursue their own nonviolent lifestyle.
In their inter-dimensional world, Raven, Arella's daughter by Trigon, was born. Fearing that the child would bring evil among them, Juris, a magistrate of Azarath, attempted to cast the infant Raven into Limbo, only to be destroyed himself. Azar, the spiritual leader of the temple, then took the young Raven under her personal tutelage, instructing her in the truth of her parentage, and in pacifism, meditation, and the submergence of her emotions to resist Trigon's influence, while perfecting her powers of teleportation, astral projection, and empathic healing.
Later, after Azar's death (in which she entered another plane of existence), when Raven was plagued by prophetic dreams of Trigon and, defying her teachers, she confronted her demon father in Limbo at his bidding. Trigon spared her and Arella after satisfying himself that, upon his return when she reached adulthood, he could seduce Raven into becoming his ally. When Raven turned fourteen, she sensed Trigon's power returning and fled to Earth.
She arrived at
Jump City
, where she met several super-powered youths fighting
a rampaging alien girl
. Raven managed to discern the girl's true reason for her demolition work and convinced the others into a more peaceful approach, which won them the alien's friendship. Despite Raven's obvious insecurity, the others invited her to join them in defeating the truly hostile aliens the Gordanians, who had attempted to enslave the girl and her presence proved ultimately essential to the motley crew's triumph over the Gordanians. Afterwards, the group decided to stay together and formed the original
Teen Titans
.
Though Raven, still feeling alienated from her new friends, remained distant to them, the other Titans soon came to learn more about her origins. First,
Beast Boy
and
Cyborg
inadvertently ended up stranded inside Raven's own mind, where they met the personifications of her
separated emotional aspects
and also encountered and fought the manifestation of Trigon's heritage inside her. Soon afterward, a backfired plot by the
Puppet King
left Raven and
Starfire
stuck in each other's body, creating a new sense of empathy between the girls. Finally, when
Robin
was haunted by a drug-induced hallucination of his enemy
Slade
, Raven linked with his mind and saw glimpses of Robin's past, including his initiation by
Batman
and the death of
his parents
.
Raven helped the Titans for years, working alongside the other four to protect
Jump City
from villainous menaces. She was consistently invaluable to their success. Eventually, however, Raven's past caught up with her: On her birthday, Slade (who had been presumed dead) reappeared, wielding new powers and marked with a symbol which Raven could not fail to recognize. Slade deliberately led the Titans to the place where Raven's true destiny was to be fulfilled to serve as a living portal for Trigon to conquer Earth. Seeing no other choice, Raven finally told her teammates the truth about her past — but instead of being rejected, the other Titans remained with her and took the greatest pains to prevent this from happening.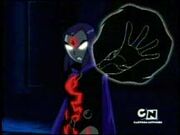 A furious Raven displays a great amount of her dark powers
 Slade and an army of Trigon's fire demons attacked
Titans Tower
to fetch Raven. The Titans decided to fight him, but Raven, unwilling to see her dearest friends hurt on her behalf, knocked them out of the fight and secretly imbued them with some of her powers to protect them from the apocalypse to come. When the portal was opened with her powers, Raven was apparently consumed, but in fact her human half remained alive in Trigon's domain, regressed to childhood and left powerless.
Left in a world turned into a living horror, the Titans still refused to give up without a fight. With some help from Slade, (who had been betrayed by Trigon) Robin made his way to Trigon's underworld, found Raven and took her back to the surface, even though she was spiritually shattered by her role in the shaping of events. Finally, the Titans and Slade faced Trigon in a final onslaught. But even as they were struck down, Raven realized that all was not hopeless, and this realization sparked a new hope within her soul, allowing her to regain full maturity along with her powers. Under a righteous wrath, she used the sum of her powers to destroy Trigon, reverting Earth back to the way it was and finally ridding herself from the last vestiges of her dreaded heritage.
Abilities:
Psionic abilities
Empathy
Advanced telekinesis
Telepathy
Thought projection
Spiritual powers
Astral projection
Mediumship
Soul-sealing
Magic powers
Spell-casting
Healing
Incredible knowledge of mystical artifacts, charms and spellbooks
Dark magic
Light magic
Telekinetic spells
Pseudo-Intangibility
Elemental magic spells
Necromancy
Postcognition
Freezing time (Birthmark)
Extra Information
Spoiler:

Spells, Incantations, and Artifacts
   Azarath Metrion Zinthos: Main incantation and mantra commonly utilized by Raven to help focus, control and enhance her tremendous yet dangerous mystical powers, usually followed by projection of visible dark energy and any of a vast number of feats; if Raven is prevented from uttering this incantation, at times she apparently is unable to activate her powers; also used by Raven and others in meditation.

   Necronom Hezberek Mortix!: A form of wild, uncontrollable but incredibly powerful dark magic taught to Raven by Malchior disguised as Rorek.

   Hezberek Et Morine...Gost Wenthen Verbis Nex...Ind Obrium, Bis Pendrule...Paran Sic Cortis Rex!: An extremely potent spell taught by Malchior to Raven to revoke the binding enchantment that sealed him within Rorek's enchanted book; performed within a ring of open tomes and volumes while simultaneously gesturing over the spellbook that contains this spell, causing the books to shine with blinding white light which will enfold the one in mystical captivity and release him within seconds.

   Aldruon Enlenthranel Vosolen Lirus-nor!: A curse more ancient than Malchior himself used by Rorek to entrap him into his enchanted book by projecting a stream of white energy that overpowers Malchior's fiery breath and locked his entire being, body and soul, into the book, a lock neither Rorek's own magic over a millennia nor Raven's own powers before her training could unravel or bypass; Raven uses the same ten centuries later through her dark energy to again seal Malchior into the book.

   Azarath Metrion Zinthos...Carazon Rakashas Enderez...Vaserix Endrien Azararth...Azarath, AZARATH!: An incantation utilized by Raven while sitting in a circle of magical sand from two flasks in her possession and a ring of lit candles around the circle, with bluish-white light pouring from the ring of sand and forming into a cylindrical barrier that reaches all the way to the ceiling of Raven's room, opening a swirling vortex-portal, which will bring Raven into a dimensional tunnel leading directly to Azarath, with this tunnel still susceptible to Trigon's attacks, though a magical seal will bar out all threats; Raven claimed even Trigon could not prevent her from "leaving", at least thus).
   The gem was born of evil's fire, the gem shall be his portal, he comes to claim, he comes to sire, the end of all things mortal: An incantation used by Raven to summon Trigon in the episode, The End - Part 1.

   Ciro...Enyawd...Vasarix...Zinthos...Metrion...Azarath!: A spell from a passage in one of Raven's spellbooks in Teen Titans Go! #24, which she believed would reverse the effects of the damaged mystic gem of the Master of Games, which had showed great chaos amongst the Titans by switching their powers and costumes with one another;
Azarath Metrion Zinthos...Kalazon Racashos Endarath...Vasirix Zendrien Azarath...Azarath!: A spell used by Raven in the Teen Titans Go! #44 issue, spoken while opening a mystic door in her bedroom in Titans Tower, leads at first into a white void, then into the dimension Azarath exists within.
Items and Artifacts
   Raven's mirror
   Book of Azar: an ancient book from Azarath having some connection to the peaceful monk Azar, which came into Raven's possession and was carelessly used by Larry to fly around the living room of Titans Tower, to Raven's displeasure and her angry claims it was not a "toy."
   Magical Lore: Raven possesses an affinity for mysticism, and has numerous items of an occult nature and an extensive library dedicated to sorcery.
Foes:
Malchior (former crush)
Trigon
Slade
Friends:
Beast Boy
Robin
Starfire
Cyborg
Melvin
Timmy Tantrum
Teether
Bobby
Shallas
Goth Boy
Young Justice





Posts

: 1


Join date

: 2015-04-25



Heroes





Posts

: 7


Join date

: 2015-04-18





Similar topics
---
Permissions in this forum:
You
cannot
reply to topics in this forum