Switch Characters
Switch Accounts
---
Staff Team
Casey Founder:
Topher Head Admin

(Takes place in Lionheart Castle. Since I hate starters this post will be small from what I normally write.)

Jasper Lionheart has been messing around at his Father's Computer system. In the Main Mother Board that connected everything. Jasper was able to disable the firewall, and all defenses down just to piss off father. He had been going on sites that would involve viruses and catching them left and right. He took down the entire defense system and removed the programs for viruses. Jasper laughed evily."HAHAHA! Take that! For making me clean that very expensive CAR! Take that. For not letting Thana come over when she is at her worst and needs her friends around. And take this for being an ass!" he said as the system was catching viruses. He chuckled. Until something happened. And he lost control of the system.
Ariniya was jacked in more and her arms spread out as she seemed to fly and glide through the white tunnels made of ones and zeros...the binary code. Kicking her feet to send her flying through the interwebs. She was ghosting through it looking for something to do. Giggling as she wanted to find a game to play. Needing something to play. Wanting someone to play with. She had met a lady named Thana but their time to play had ended too quickly for the child like cyborg hybrid.

Bursting through a downed firewall area and started cybernetically walking through it. Weird...this was an interesting mainframe. Nearly as complex as Thana's but nowhere near as actively protected. According to the cpu here everything was current down. Sitting down and closing her eyes her ghost like form within the internet vanished and she became the controller of the cpu and computer system. It was so easy with everything down.

~W...A...N...T...T...O...P...L...A...Y...U...S...E...R?~

The words slowly typed themselves out over the screen. She was busy working on finding the microphone functions.
_________________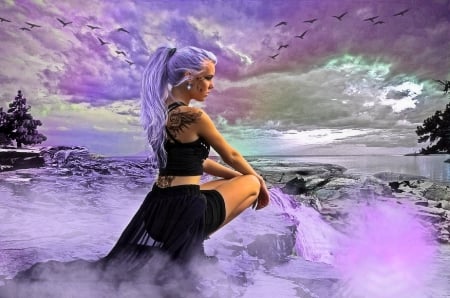 Citizens





Posts

: 5


Join date

: 2015-05-11



Jasper further took down the defense till every defense was down. He was sure his father would kill him if he found his brat of a Son Messed with his Complex system. With that being done. His eyes stared at the screen."Perfect, all defenses are down. And Someone just invaded the Mother Computer. Perfect, my life is compete. And yes sure I will play. You people really need to get new catch phases." he told this to a computer. He was going mad. He was talking to an Artificial Intelligence a computer none the less or was there a person behind it? He did not know. Science really puzzled him at times, when it came to Computers, along with Life. Jasper was was very intelligent for his age, a genius.

His eyes looked at the screen blankly. This was some sort of joke right? Oh well he'll play the game with her, him, it, Robot. Screw it as long as he get's to savage his Father's bloody masterpiece, it would be perfect. He however disabled the Cams in the room, Meaning the Robotic Armour and robots that were being worked on by his Father, and Organic Suits of Armour, were not in view. And only one piece of cam worked. Was the one that The computer can see Jasper in. Meaning his body and face."I'll play." he told her.
Ariniya's child like soul and mindset was hoping that someone out there would pay attention. Or not trying to eradicate her. That hurt a bit emotionally more than anything. Listening to the man who she could see in front of the screen. Simply because she couldn't be bothered to hack into the other cameras. The only one important right now was the one allowing her to see Jasper. The young man in front of her.
~What....do...you...mean? One moment assimulating and creating virtual interface communicatoion sources.~
The words typed out easier over the screen. The computer suddenly would inform him that he was no longer in control over any of it. As she had taken it over complete. She and the internet. Data seemed to be dancing in 1's and 0s across the screen. Computer talk. Something humans and most others didn't understand.
Suddenly the screen altered and then a blue screen appeared. Slowly pixelating into a 3-dimensional image appeared until on the screen he could see a purple haired beauty. "Alright. Now I can talk to you fully. Who are you? I'm Andromeda. I'm so happy you wnat to play." She said with a bright and cheerful demeanor. Giggling more. "What will you play with me?"
OOC :Image On Screen
_________________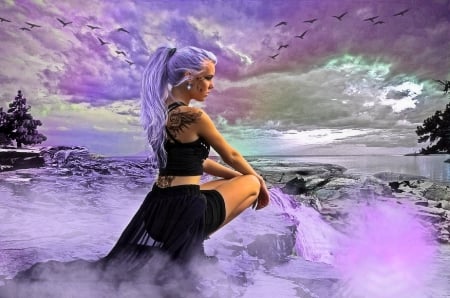 Citizens





Posts

: 5


Join date

: 2015-05-11



He looked at the screen as the person controlled. It he looked at it. Oh my goodness this was just breath taken. Computer was talking to him. HE MUST BEFRIEND! He eagerly jumped. NEW Friends! Yay him or her. He shook his head and simply smiled. When the 1 and 0s came into play. Unlike most people. Jasper was very proficiency in Binary code and could understand it very well.

Then the screen had turned blue with Pixie things."NOO DON"T LEAVE! I wanted to befriend you. WE COULD BE Friends." He sounded like an insane person right now. And if father saw him. Father would most likely Smite him. He didn't want to get smite by father. He looked at the image as it finally spoke."IT SPEAKS!" he said as he roared at the speakers."Bloody hell. IT SPEAKS! Before we play. Can we be great friends?" He asked with great enthusiasm. He leaned forward poking the computer screen."You are very interesting." he chuckled. He wasn't surprised. But was very impressed.

"Tell me what game shall we play? OR! Can we game all day and talk." he smiled. At her given the woman a few options to play with and juggle around with. This was going to be a good and long time. He needed to remember to get snacks.

---
Permissions in this forum:
You
cannot
reply to topics in this forum