Switch Characters
Switch Accounts
---
Staff Team
Casey Founder:
Topher Head Admin

Jasper had been at a Arcade playing games and enjoying the Classics. Just like any Boy would. He was enjoying himself pretty well. it was very fun to do so. He was having the out most amazing fun. Out of the Castle of the Lionhearts he was having some time to himself. He needed to visit Central City to go to that Coffee place again. That woman was so dreamy. It was almost amazing. Shaking his head as he snapped back to reality and begun Playing Pac-man.
Ariniya dressed and left her house. Putting an off the shoulder white top on. A white flower decorated her purple hair that fell down her back towards her ankles. Her form dressed in a unique outfit that she had ordered from someone a long time ago. She made her way to the Arcade area. They had some really interesting games. Her stride led her to the destination. Wandering inside and moved through the machines and changed a dollar for coins. Going to the dance dance revolution game and put the coins in. Chosing a song and began to dance to the song. Moving her legs to hit the right buttons on the pads as they went up the big screen. Nearby a guy was playing pacman.
_________________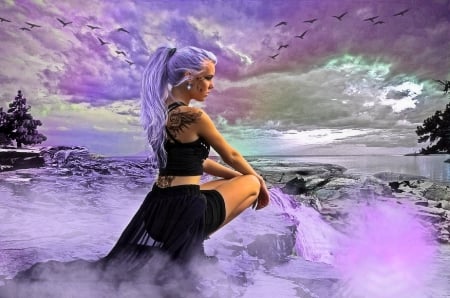 Citizens





Posts

: 5


Join date

: 2015-05-11



Jasper was playing pac-man. Hitting the highest score at least trying. Too that is. Hoping he would get it. Until he noticed a purple head female. A FEMALE That loves games!? He must befriend such a person. He made his way towards the woman, ignoring the game he was playing. And smiled."Hey, I am Jasper Lionheart most people call me Jasper? Want to be friends? I never knew females were into such classic Arcade games. Not being sexist or anything I just thought they were into modern games. What do you know. Just when the world get's boring, it shallows you back into reality and presents you with something new for you to learn and embrace and love. Pleasure to meet you." he offered her a warm smile.
Ariniya continued the game until she got the high score. Playing again when she missed one and didn't notice anyone else. Her chest bouncing with some of the more high speed songs. On a slower dance one she looked at him. "I love making new friends! I'm Ariniya. Nice to meet you Jasper." she said without missing a beat in the dance dance revolution she was doing. She continued to dance. Moving her legs with the song. Listening to him as he spoke. He sure talked so much. Glancing to him as he spoke. "Uh huh...gamers are gamers...not many arcades seem to exist. Your rambling...its kinda cute and silly." She said with a cute teehee.
_________________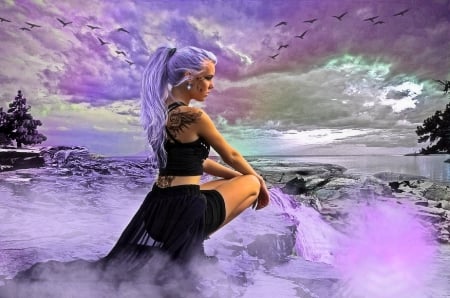 Citizens





Posts

: 5


Join date

: 2015-05-11



Jasper was excited to make new friends. This was going to be just perfect. New friends and fun time. Guess he would befriend this person as well."Yah, gamers are gamers you are right." He told her honestly shaking his head slowly. As he smiled at her."You can do it. Come on beat the highest score." Jasper had encouraged her. To new friends. This was very exciting seeing as Jasper was the friend making guy, yet forever alone and without a woman. Jasper had his eyes set on one. Cassandra. She was amazing truly was that woman was. He hoped she would some day say yes too him. Hoping and praying. However, he first had to fix everything that caused her demons to swell up and eat her whole. Jasper dismissed those thoughts for the moment. He was here to have himself fun and enjoy making new friends.

---
Permissions in this forum:
You
cannot
reply to topics in this forum