Switch Characters
Switch Accounts
---
Staff Team
Casey Founder:
Topher Head Admin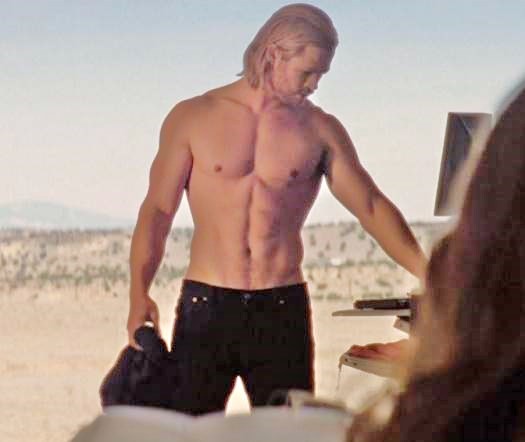 Full Name:
Abaddon
Alias:
Destroyer of Demons
Sexual Orientation:
Omnisexual
Age:
 Before Time Existed
Play-By: (Celeb)
Chris Hemsworth
Physical Description: LOOK AT PICTURE
Occupation:
Assassin(Human Disguise), Soul Stealer(Demon), Weapon of Mass Destruction(Abaddon.)
Affiliation:Family Information:
Sisters
Brothers
Demons
Archdemons
Family Background:
Unknown
History:
Abaddon, was created for one goal. To wipe out earth. During the process of his creation. Abaddon, gained three brothers and three sisters. A Father and a mother. Whom are very much alive. When time begun to sprew forth. Abaddon and his family were locked away in a dark cage. That Presence/The Voice Created. Hell and Heaven battled. Lucifer lost. Sent away to rule Hell. However, Abaddon along with the rest of his family used a combined effort and created a powerful being. The Anti-God. Which broke free their cages. And let the family run free. With that being done.  The Anti-God has disappeared from distanced after using all his power.
His brother, Was now the King of Demons. Ruling over it. Abaddon made his way towards the Living realm. To start his way to make havoc. Misguided as an Assassin in Medevil times. He slaughtered kings, Slept with Queens, and bred Children left and right as if they were dogs. Abaddon now had an army of Half Demons bastards ready to do what he wished. However, to contain such a large mass. Abaddon needed a realm, So with that being done. Abaddon created a realm and sent his half demon bastards to live their lives their. Then Sent his youngest sister to Watch over them.
As years went on, Abaddon honed his fighting skills, and powers. and Ventured forward. Right now he is an Assassin. Ready to be paid for jobs.
Abilities:
Powers/Abilities:
Spoiler:


   Ethereal Physiology(Demons)
       Elemental Manipulation
           Fire Manipulation
       Energy Manipulation
       Immortality
       Intangibility
       Invulnerability
       Life-Force Generation
       Life-Force Manipulation
       Magic
       Mana Manipulation
       Non-Corporeal Form
       Possession
       Telekinesis
       Teleportation
   Extrasensory Perception
   Omnifarious
   Quintessence Force
   Resurrection
   Supernatural Condition

Common Demon Powers:
   Chaos Manipulation
   Curse Inducement
   Dark Element Manipulation
       Black Earth Manipulation
       Black Lightning Manipulation
       Dark Fire Manipulation
       Dark Water Manipulation
       Dark Wind Manipulation
   Darkness Manipulation
   Death Inducement
   Decelerated Aging or Semi-Immortality
   Dream Manipulation
   Elemental Manipulation
       Fire Manipulation
       Electricity Manipulation
       Ice Manipulation
   Elemental Mimicry/Energy Physiology
   Fear Inducement
   Hatred Empowerment
   Hell-Fire Manipulation
   Human Disguise
   Mediumship
   Mental Manipulation
   Natural Weaponry
       Claw Retraction
       Enhanced Bite
       Horn Protrusion
       Needle Projection
       Prehensile Tail
       Stinger Protrusion
       Tentacle Extension
   Necromancy
   Nothingness Manipulation
   Pain Inducement
   Poison Generation
   Possession
   Rage Manipulation
   Reactive Adaptation
   Sin Embodiment
   Soul Absorption
   Vice Inducement
   Weapon Manipulation
Skills:
Spoiler:


Master Combatant/Marital Artist
Master Swordsman
Master Archer
Free Runner/Parkour
Proficiency Weaponry
High Tolerance for pain
All Tongue: Knows every single language
Foes:
Angels, Archangels, Good People, Righteousness
Friends:
Brothers, Sisters, Demons, Archdemons



Posts

: 1


Join date

: 2015-05-19


Age

: 24



_________________
Thanks Jules for the awesome sig
Heroes





Posts

: 123


Join date

: 2015-04-13




---
Permissions in this forum:
You
cannot
reply to topics in this forum